Gut Flora and Stress
An imbalance in your gut flora doesn't just affect you physically, it can affect you mentally.  Studies show that having an overgrowth of certain bacteria in the gut can trigger a systemic stress response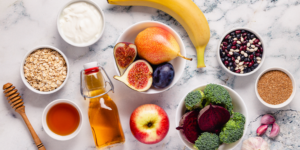 that keeps you in fight or flight mode, which is characterized by increased heart rate, high blood pressure, increased blood glucose, difficulty focusing and slowed digestion at all times.  Staying in fight or flight long-term can cause chronic inflammation that leads to chronic diseases.  Conversely, having the "right" balance of Bifidobacterium and Lactobacillus can turn off the hormonal signals that cause that chronic stress response.
Importance of Probiotics
Probiotics are live cultures that provide some type of benefit to the host-you.  In the case of gut dysbiosis, probiotics help repopulate the gut with good bacteria to help restore the balance.  There are two major ways to introduce probiotics into your gut.
Fermented Foods
Fermented foods are not a new thing.  Fermented foods are those that have been preserved using a process called lacto-fermentation.  During this process, bacteria feed on the sugars and starches naturally present in the food.  Fermentation does more than increase a food's shelf life.  It makes the food more digestible, changes flavor and texture, reduces the presence of carbohydrates known for causing gas, and synthesizes vitamins like vitamin B12.
Supplements
Continue reading "Part 4 – Healthy Digestion and Good Gut Health"