Multivitamin for Conception and Hormone Balance?
When you are trying to get pregnant or trying to maintain hormone balance in general, we are hearing from many different sources that is it a good idea to begin using a prenatal multivitamin before you get pregnant.  The same is being said for maintaining hormone balance outside of conception.  There are now studies backing this advice.  Multivitamins serve as a type of "back up" plan to our diets.  While eating a healthy diet is of utmost importance it is always good to include a whole food prenatal for pregnancy and a whole food multivitamin in who general.
"A study from Harvard Medical school involving 18,000 has shown that taking a multivitamin, particularly, folic acid, can improve chances of pregnancy."
That study followed nurses who have hoped to get pregnant for an eight year period.  Women who took their multivitamin six times a week were 40% less likely to fail to ovulate than women who took none.
The Importance of Nutrients for Fertility, Pregnancy and Hormone Balance
Nutrition plays a big role in having healthy fertility and experiencing a healthy pregnancy.  Nutritional deficiencies have been linked to ovulation issues hormonal imbalances poor egg health, low sperm count and so much more.  We are literally what we eat.  Every cell in our bodies that makes up our organs, creates hormones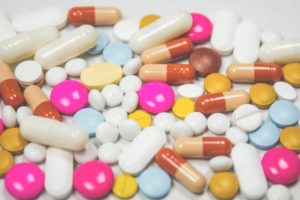 and enzymes that make us function is created by the food we eat and the nutrients we take in.  If this is being compromised due to poor diet or poor digestion, the side effects could affect fertility and hormone balance.
Did you know that there are specific nutrients like folic acid that are needed by the young fetus before you can even detect pregnancy, and a deficiency in this nutrient could cause serious birth defects?  Another example is iron – iron deficiency and low levels of iron in the blood has bee linked to lack of ovulation.
So, nutrition does play a big role in our health, fertility and hormone balance.  Taking a whole food multivitamin daily can help to fill the gaps where diets may be falling short.
Do You Need a Multivitamin?
Important Nutrients for Fertility and Hormone Balance
Vitamin D:  Vitamin D is needed to help the body create sex hormones which in turn affects ovulation and hormonal balance.  Yale University School of Medicine conducted a study of 67 infertile women.  It was discovered that  mere 7% had normal Vitamin D levels.
Vitamin E:  Vitamin E has been shown in studies to improve sperm health and motility in men.  Studies have shown a diet deficient in Vitamin E to be the cause of infertility in rats.  The meaning of the name for vitamin E 'Tocopherol' literally means to bear young.  Vitamin E is also an important antioxidant to help sperm and egg DNA integrity. Continue reading "Using a Multivitamin While Preparing for Conception and Maintaining Hormone Balance"