Your liver is an important fat-burning organ that helps regulate the balance of hormones in your body.   It produces cholesterol,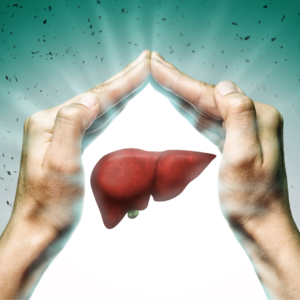 which is the pre-cursor necessary for the creation of hormones.   The liver also breaks down and removes excess hormones and waste from your body.  In the same way a pool filter cleans a pool by catching the dead leaves, dirt and insects, the liver transforms and eliminates harmful toxins and excess hormones from your body.
If the liver is sluggish or clogged with waste material, excess hormones build up in your system (and around your waistline), leading to hormone imbalances like estrogen dominance.  Once estrogen has done its job in the body, it is sent to the liver so it can be broken down and removed through your gallbladder, kidneys, colon and urine.  If your liver is congested or overwhelmed, it is unable to function optimally and thus cannot remove estrogen at its normal rate.  Estrogen can be reabsorbed into the body contributing to symptoms like fatigue, brain fog, weight gain, irritability, low libido, and depression.  Excess estrogen can make your bile from the gallbladder too thick and stagnant to efficiently flow out of the body and detoxify excess hormones.