Your body uses nutrients like vitamins, minerals, carbohydrates, protein and fatty acids to carry out every single one of its physiological processes, such as fixing damaged cells and making new ones.  Nutrients give cells what they need to work, grow and divide.  The only way to get most of the nutrients your body needs is through the foods you eat.
When your gut is healthy and your digestion is working properly, your body has access to everything it needs to keep itself healthy.  When your gut is imbalanced and your digestion is out of whack, your body cannot absorb nutrients no matter how clean your diet is.  Adopting a clean diet only one aspect of gut health.  You must also work to fix your damaged gut so you can absorb nutrients by taking the proper supplements, engaging in stress-reduction techniques and staying properly hydrated.
Identifying Digestive Problems
Bloating, belching, burning, and flatulence after meals
A sense of extreme fullness after eating
Indigestion, diarrhea or constipation
Rectal itching
Weak or cracked fingernails
Dilated capillaries in the cheeks and nose
Post-adolescent acne or other skin irritations, such as rosacea, eczema and hives
Iron deficiency
Chronic intestinal infections, parasites, yeast and unfriendly bacteria
Greasy stools
Easily bruised skin
Fatigue
What is the difference between essential and non-essential nutrients?
Essential nutrients are those that your body cannot make; therefore you must obtain them through your diet.  Non-essential nutrients are those that your body can manufacture from other chemicals and substances in your body, so it's not vital to consume them every day, although they are just as important.  Examples of non-essential nutrients include the amino acids alanine, glutamine and arginine.
Here is a gut-healthy breakfast recipe for you to enjoy!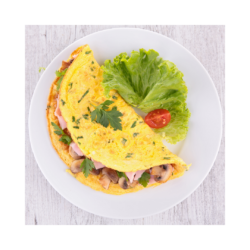 Garlicky Veggie-Packed Omelet
Delicious vegetables and garlic combine with fluffy eggs and egg whites to make a simple, satisfying and savory meal that will start off any day right! Protein-packed and rich in complex carbohydrates from the vegetables, this is a tasty way to get some valuable nutrition.
Ingredients
2

tsp

olive oil or coconut oil

1/4

cup

chopped yellow onion

1/4

cup

sliced button or cremini mushrooms

1/2

tsp

garlic powder

1/2

cup

torn spinach leaves

1/4

cup

chopped tomato

2

large

whole eggs

4

large

egg whites
Instructions
Heat olive oil or coconut oil in a small frying pan over medium heat.

Saute' onion for 1 minute. Add mushrooms and water, and saute' until mushrooms are softened, about 3-4 minutes

Sprinkle mixture with garlic powder and add spinach leaves and tomatoes, stirring constantly.

Whisk together eggs and egg whites and pour over the sauteed vegetables.

Immediately begin pushing the outer edges into the center with a spatula for one turn around the whole pan. Let omelet set for 2 minutes.

Gently slide the spatula under omelet and quickly flip.

Continue cooking omelet for another 3 - 5 minutes or until no longer runny.
For more help with gut health and overall well-being, contact us here!  We would be happy to help with making a plan for optimizing digestion and gut health.