Gut Health Recipe
Gracious Garlic
A member of the lily flower family, garlic is a beautiful plant that can give your meal a tantalizing aroma and a unique flavor that can't be found in anything else.  Use garlic or garlic powder to dress up dishes or create a savory flavor.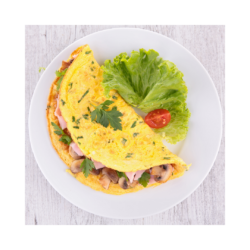 Garlicky Veggie-Packed Omelet
Delicious vegetables and garlic combine with fluffy eggs and egg whites to make a simple, satisfying and savory meal that will start off any day right! Protein-packed and rich in complex carbohydrates from the vegetables, this is a tasty way to get some valuable nutrition.
Ingredients
2

tsp

olive oil or coconut oil

1/4

cup

chopped yellow onion

1/4

cup

sliced button or cremini mushrooms

1/2

tsp

garlic powder

1/2

cup

torn spinach leaves

1/4

cup

chopped tomato

2

large

whole eggs

4

large

egg whites
Instructions
Heat olive oil or coconut oil in a small frying pan over medium heat.

Saute' onion for 1 minute. Add mushrooms and water, and saute' until mushrooms are softened, about 3-4 minutes

Sprinkle mixture with garlic powder and add spinach leaves and tomatoes, stirring constantly.

Whisk together eggs and egg whites and pour over the sauteed vegetables.

Immediately begin pushing the outer edges into the center with a spatula for one turn around the whole pan. Let omelet set for 2 minutes.

Gently slide the spatula under omelet and quickly flip.

Continue cooking omelet for another 3 - 5 minutes or until no longer runny.