Try this plant-based side dish!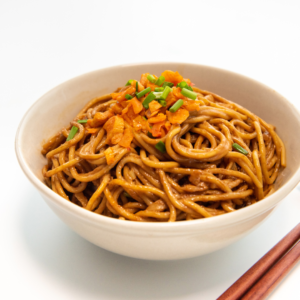 Sesame Noodles
Ingredients
1

Package (16 oz) uncooked spaghetti

6

Tbl

Soy sauce

5

Tbl

Dark sesame oil

3

Tbl

Rice vinegar

3

Tbl

Sugar

2

Tbl

Vegetable oil

3

Cloves garlic, minced

1

Tsp

Grated fresh ginger or ginger paste

1/2

Tsp

Sriracha Sauce

2

Green onions, sliced

1

Red bell pepper

1

Cucumber

1

Carrot

Sesame seeds (optional)
Instructions
Cook spaghetti according to package directions until al dente in large saucepan of boiling salted water. Drain, reserving 1 tbl pasta cooking water

Which soy sauce, sesame oil, sugar, vinegar, vegetable oil, garlic, ginger, sriracha and reserved pasta water in large bowl. Stir in noodles and green onions. Let stand at least 30 minutes until noodles have cooled to room temperature and most of sauce is absorbed, stirring occasionally

Meanwhile, cut bell pepper into thin strips. Peel cucumber and carrot and shred with julienne peeler into long strands or cut into thin strips. Stir into noodles. Serve at room temperature or refrigerate until ready to serve. Top with sesame seeds if desired
Gluten Free:
Use gluten-free spaghetti instead of regular spaghetti, or use 12 ounces soba noodles cooked according to package directions.