Thyroid Function Must Be Controlled Before You Get Pregnant
Treating thyroid problems naturally right away is important if you are wanting to have a baby.  Preconception planning is essential to a healthy pregnancy for women with thyroid problems.  Women with untreated or neglected thyroid problems may affect their baby's growth and brain development.  Untreated thyroid problems may also lead to infertility, miscarriage or a baby born with birth defects.
It's important to see a doctor bout thyroid issues.  Make a plan with your doctor.  If you desire natural treatments it is important to speak with your doctor to see if that is a possibility for you.  Here I will present some ways to supplement and support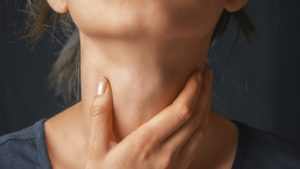 proper thyroid function.  If you are interested in any of these, talk to your doctor – we can help with a plan of action to help.
Iodine Rich food sources
A diet rich in whole foods should always be the first way to support overall health, including thyroid health.  Poor diet and nutritional deficiency is one of the top reasons for thyroid problems.  Choose organic foods when possible, as the thyroid is very sensitive to environmental toxins.  Too much iodine can also cause goiter, so do not go overboard.  More is not always better.  It is about balance.  It is important to get a balanced amount of iodine in the diet.  People with hypothyroidism due to iodine deficiency may benefit from increasing the recommended daily allowance of iodine rich foods.
Raw cranberry
Whole-fat yogurt
Raw dairy products
Navy beans
Strawberries
Potatoes with skin left on
Himalayan Crystal Salt