Gluten Free Foods List
If you are trying a Gluten Free diet, here are some foods that can be consumed.  Use this gluten free foods list as much as possible.  Wherever possible, go organic and local with your whole-food choices; flash frozen is good too!
Healthy fat: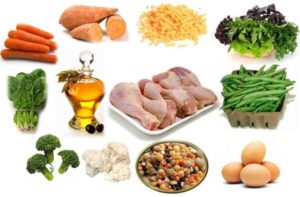 Extra virgin olive oil, sesame oil, coconut oil, grass fed tallow and organic or pasture-fed butter, ghee, almond mild, avocados, coconuts, olives, nuts and nut butters, cheese (except blue cheese) and seeds (flaxseed, sunflower seeds, pumpkin seeds, sesame seeds, chia seeds).
Protein:
Whole eggs; wild fish (salmon, black cod, mahi mahi, grouper, herring, trout, sardines); shellfish and molluscs (schrimp, crab, lobster, mussels, clams, oysters); grass-fed meat, fowl, poultry, and pork (beef, lamb, liver, bison, chicken, turkey, duck, ostrich, veal); wild game.