Here are some Side Dish Recipes for You!
Check back for more!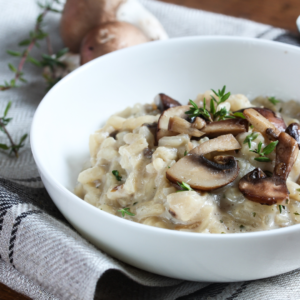 Spinach and Mushroom Risotto
Ingredients
1/4

Cup

Olive Oil

8

Oz

Mushrooms sliced

2

Tsp

Dried Basil

2

Tsp

Minced Garlic

1/4

Tsp

Black Pepper

1 1/2

Cups

Uncooked Arborio Rice

1

Tsp

Salt

1/2

Cup

Dry White Wine

4

Cups

Vegetable Broth

3

Cups

Packed Stemmed Spinach, Chopped

6

Tbl

Chopped Walnuts Toasted*

1/4

Cup

Grated Parmesan Cheese
Instructions
Heat oil in large saucepan over medium-high heat. Add mushrooms, basil, garlic and pepper; cook and stir 5 minutes or until mushrooms are tender.

Add rice and salt; cook and stir 2 to 3 minutes or until rice is translucent. Add wine; cook and stir until absorbed. Add broth. 1/2 cup at a time, stirring until broth is absorbed before adding next addition. Add spinach with last 1/2 cup broth is absorbed.

Cover and let stand 5 to 7 minutes or until spinach is wilted. Sprinkle with walnuts and cheese before serving.
Notes
*To toast walnuts, spread in single layer in heavy skillet.  Cook over medium heat 2 to 3 minutes or until lightly browned, stirring frequently.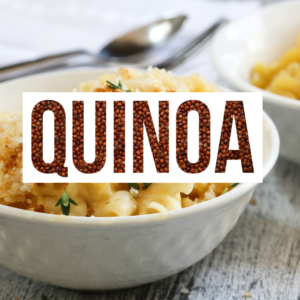 Three-Cheese Macaroni and Quinoa
Ingredients
4

Tbs

Butter, divided

1/2

Cup

Panko Bread Crumbs

2

Quarts

Water

1

Tsp

Salt, divided

1 1/2

Cups

Uncooked whole grain elbow macaroni

1/2

Cup

Uncooked Quinoa

2

Tbs

All-purpose flour

1

Cup

Milk

1

Cup

(4 ounces) Shredded sharp Cheddar cheese

1

Cup

(4 ounces) Shredded Monterey Jack cheese

1/4

Cup

Grated Parmesan cheese
Instructions
Melt 2 tablespoons butter in medium saucepan over medium heat. Add panko; cook and stir 1 to 2 minutes or until golden. Place in small bowl; set aside.

Combine water and 1/2 teaspoon salt in large saucepan; bring to a boil over high heat. Stir in macaroni and quinoa; cook 10 minutes or until pasta is tender. Drain in fine-mesh strainer. Place in large serving bowl.

Melt remaining 2 tablespoons butter in saucepan over medium heat. Whisk in flour; cook 1 minute without browning. Gradually whisk in milk and remaining 1/2 teaspoon salt; cook 5 minutes or until very thick. Stir in Cheddar and Monterey Jack cheeses until melted. Pour over macaroni mixture.

Top with Parmesan cheese and panko.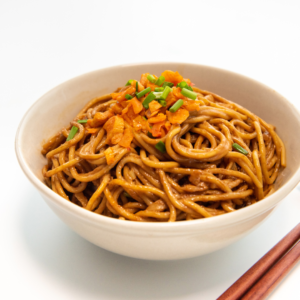 Sesame Noodles
Ingredients
1

Package (16 oz) uncooked spaghetti

6

Tbl

Soy sauce

5

Tbl

Dark sesame oil

3

Tbl

Rice vinegar

3

Tbl

Sugar

2

Tbl

Vegetable oil

3

Cloves garlic, minced

1

Tsp

Grated fresh ginger or ginger paste

1/2

Tsp

Sriracha Sauce

2

Green onions, sliced

1

Red bell pepper

1

Cucumber

1

Carrot

Sesame seeds (optional)
Instructions
Cook spaghetti according to package directions until al dente in large saucepan of boiling salted water. Drain, reserving 1 tbl pasta cooking water

Which soy sauce, sesame oil, sugar, vinegar, vegetable oil, garlic, ginger, sriracha and reserved pasta water in large bowl. Stir in noodles and green onions. Let stand at least 30 minutes until noodles have cooled to room temperature and most of sauce is absorbed, stirring occasionally

Meanwhile, cut bell pepper into thin strips. Peel cucumber and carrot and shred with julienne peeler into long strands or cut into thin strips. Stir into noodles. Serve at room temperature or refrigerate until ready to serve. Top with sesame seeds if desired
Gluten Free:
Use gluten-free spaghetti instead of regular spaghetti, or use 12 ounces soba noodles cooked according to package directions.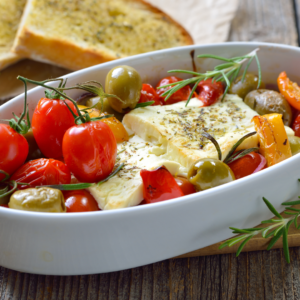 Mediterranean Baked Feta
Ingredients
1

Package (8 oz) feta cheese, cut crosswise into 4 slices

1/2

Cup

Grape tomatoes, halved

1/4

Cup

Pitted kalamata olives

1/8

Tsp

Dried oregano

Black pepper

2

Tbl

Extra Virgin Olive Oil

1

Tbl

Shredded fresh basil

Pita Chips
Instructions
Preheat oven to 400 degrees F

Place cheese in small baking dish; top with tomatoes, roasted peppers and olives. Sprinkle with oregano and season with black pepper; drizzle with oil

Bake 12 minutes or until cheese is soft. Sprinkle with basil. Service immediately withpita chips.
Gluten-Free: Serve with corn tortilla chips or gluten-free crackers