Here are some Breakfast Recipes for you!
Check back for more!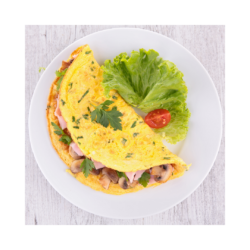 Garlicky Veggie-Packed Omelet
Delicious vegetables and garlic combine with fluffy eggs and egg whites to make a simple, satisfying and savory meal that will start off any day right! Protein-packed and rich in complex carbohydrates from the vegetables, this is a tasty way to get some valuable nutrition.
Ingredients
2

tsp

olive oil or coconut oil

1/4

cup

chopped yellow onion

1/4

cup

sliced button or cremini mushrooms

1/2

tsp

garlic powder

1/2

cup

torn spinach leaves

1/4

cup

chopped tomato

2

large

whole eggs

4

large

egg whites
Instructions
Heat olive oil or coconut oil in a small frying pan over medium heat.

Saute' onion for 1 minute. Add mushrooms and water, and saute' until mushrooms are softened, about 3-4 minutes

Sprinkle mixture with garlic powder and add spinach leaves and tomatoes, stirring constantly.

Whisk together eggs and egg whites and pour over the sauteed vegetables.

Immediately begin pushing the outer edges into the center with a spatula for one turn around the whole pan. Let omelet set for 2 minutes.

Gently slide the spatula under omelet and quickly flip.

Continue cooking omelet for another 3 - 5 minutes or until no longer runny.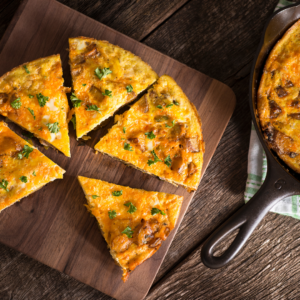 Feta Frittata
Ingredients
8

Eggs

1/4

Cup

Plain Greek Yogurt

1/4

Cup

Chopped Fresh Basil

1/2

Tsp

Salt

1/4

Tsp

Black Pepper

1

Tbl

Olive Oil

4

Oz

Crumbled Feta Cheese

with basil, olives and sundried tomatoes or 1 Cup plain feta cheese

1/4

Cup

Pine Nuts
Instructions
Preheat broiler. Whisk eggs, yogurt, basil, salt and pepper in medium bowl until well blended

Heat oil large ovenproof skillet over medium heat, tilting skillet to coat bottom and side. Pour egg mixture into skillet; cover and cook 8 to 10 minutes or until eggs are set around edge (center will be wet)

Sprinkle feta and pine nuts evenly over top. Transfer to broiler; broil 4 to 5 inches from heat source 2 minutes or until center is set and pine nuts are golden brown. Cut into wedges.
Notes
This frittata also makes a great meal.  Cut it into quarters and serve it hot with fruit for breakfast, tuck a wedge into half a pita for lunch.