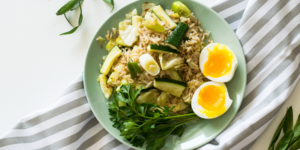 Here are some Lunch Recipes for you!
Check back for more recipes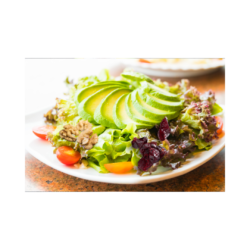 Romaine and Avocado Salad
A cup of sliced raw green bell pepper contains 12 percent of your daily value (DV) of vitamin A, but an equivalent cup of sliced red bell peppers contains 104 percent DV! Red bell peppers provide both color and taste to your meals, along with plenty of both vitamins C and A.
Ingredients
Salad
1

large

head romaine lettuce

1

large

tomato, chopped

1

small

red bell pepper, cut into 1" strips

1/2

small

avocado, cut into chunks

2

tbsp

unsweetened dried cranberries
Dressing
2

tbsp

fresh lemon juice

2

tsp

balsamic vinegar, no sulfites added

1

tbsp

etra-virgin olive oil
For Garnish
2

tbsp

coarsely chopped walnuts or almonds (optional)
Instructions
Remove outer leaves of lettuce head and discard. Chop inner leaves. Rinse in cold water and dry with paper towels.

Place lettuce in a large bowl and add remaining salad ingredients.

Whisk together dressing ingredients in a small bowl.

Toss salad with dressing.

Sprinkle with chopped walnuts or almonds, if desired.