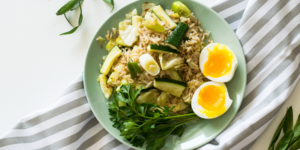 Here are some Lunch Recipes for you!
Check back for more recipes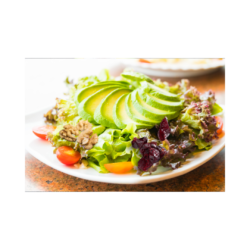 Romaine and Avocado Salad
A cup of sliced raw green bell pepper contains 12 percent of your daily value (DV) of vitamin A, but an equivalent cup of sliced red bell peppers contains 104 percent DV! Red bell peppers provide both color and taste to your meals, along with plenty of both vitamins C and A.
Ingredients
Salad
1

large

head romaine lettuce

1

large

tomato, chopped

1

small

red bell pepper, cut into 1" strips

1/2

small

avocado, cut into chunks

2

tbsp

unsweetened dried cranberries
Dressing
2

tbsp

fresh lemon juice

2

tsp

balsamic vinegar, no sulfites added

1

tbsp

etra-virgin olive oil
For Garnish
2

tbsp

coarsely chopped walnuts or almonds (optional)
Instructions
Remove outer leaves of lettuce head and discard. Chop inner leaves. Rinse in cold water and dry with paper towels.

Place lettuce in a large bowl and add remaining salad ingredients.

Whisk together dressing ingredients in a small bowl.

Toss salad with dressing.

Sprinkle with chopped walnuts or almonds, if desired.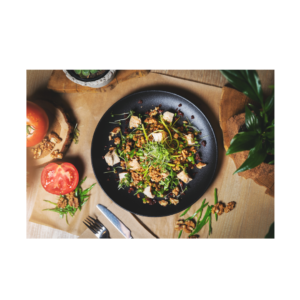 French Lentil Salad
Ingredients
1 1/2

Cups

Dried Lentils

Rinsed and sorted

4

Green Onions

Finely Chopped

3

Tbl

Balsamic Vinegar

2

Tbl

Chopped Fresh Parsley

2

Tbl

Extra Virgin Olive Oil

1/2

Tsp

Salt

1/2

Tsp

Dried Thyme

1/4

Tsp

Black Pepper

Lettuce Leaves

Optional

1/4

Cup

Walnuts

Toasted*
Instructions
Combine 2 quarts water and lentils in large saucepan; bring to a boil over high heat. Reduce heat to low; cover and simmer 30 minutes or until lentils are tender, stirring occasionally. Drain lentils.

Combine cooked lentils, green onions, vinegar, parsley, oil, salt, thyme and pepper in large bowl; mix well. Cover and refrigerate 1 hour or until cool.

Serve on lettuce leaves, if desired. Top with toasted walnuts before serving.
Notes
*To toast walnuts, spread in single layer in heavy skillet.  Cook over medium heat 1 to 2 minutes, stirring frequently, until lightly browned.  Remove from skillet immediately.  Cool before using.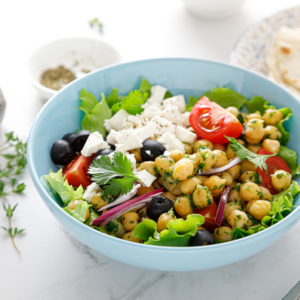 Greek Salad Bowl
Ingredients
1

Cup

Uncooked pearled farro

2 1/2

Cups

Water

1 1/4

Tsp

Dried oregano or Greek seasoning, divided

1/2

Tsp

Salt, divided

1/4

Cup

Extra virgin olive oil

2

Tbl

Red Wine Vinegar

1

Clove

Garlic, minced

1/8

Tsp

Black pepper (optional)

2

Cucumbers, julienned, cubed or thinly sliced

1/2

Red onion, thinly sliced

2

Medium tomatoes, diced

1

Can (15 ounces) chickpeas, rinsed and drained

4

Oz

Feta cheese, cubed or crumbled
Instructions
Rinse farro under cold water; place in medium saucepan. Add 2 1/2 cups water, 1 tsp oregano and 1/4 tsp salt. Bring to a boil over high heat. Reduce heat to medium-low; simmer, uncovered, 20 minutes or until farro is tender. Drain any additional water.

Whisk oil, vinegar, garlic, remaining 1/4 teaspoon salt, remaining 1/4 teaspoon oregano and pepper, if desired, in small bowl.

Divide farro among 4 bowls; arrange cucumber, onion, tomatoes, chickpeas and feta around farro. Drizzle with dressing.
Make-Ahead: This bowl is a great make-ahead option for lunches or future dinners. Add some grilled chicken or lamb for a heartier meal, or mix everything together and serve it as a side dish.
Note: This is a great recipe to use a spiralizer if you have one. Cut the ends off the cucumbers and spiral slice with the thin ribbon blade. Spiral the red onion with the thin ribbon blade and chopped into desired pieces.
Vegan: Omit cheese or substitute with cubed extra firm silken tofu.