Want to know how to increase sperm naturally?  Actually – sperm quality?
The motility (movement) and the morphology (shape) of the sperm is just as important for fertilization of the egg.  If you have been wondering if you have a 'normal sperm count', it may be a good idea to have a test done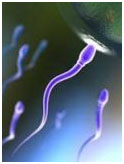 for evaluation.  Your body can always use some extra help through nutritional and lifestyle choices as this can go a long way to help increase your sperm count and quality!
As part of a preconception care plan, it is always helpful to get a routine check up.  Letting your doctor know you are trying to conceive is helpful so they can discuss any relevant information you may need to know.  There are certain medical conditions that can interfere with reproductive function so these need to be ruled out, addressed or monitored.
Sperm Maturation
The spermatozoa take around three months to mature, although they are constantly being produced.  If you have had the flu, an infection or fever within the last few months, this could affect your current sperm quality.  Likewise any negative lifestyle factors can also impact your sperm cells.  How to increase sperm count?  Your body can do with some replenishment and 'TLC' to help restore the quality of your sperm.  Your sperm supply should be completely regenerated after around three months time.
How to Increase Sperm Count
diet
Nutrition plays a huge role for the production of healthy sperm and semen (probably more than you realize).  Keep your diet well balanced to ensure optimal fertility, and this will also help keep up energy levels.  How to increase sperm count:
Eat fresh organic fruits and veges – these are full of essential vitamins, minerals and antioxidants (must be free of pesticides and other chemicals that damage sperm).
Proteins – eat more seafood and vegetable proteins rather than meats.
Organic lean meats/poultry/eggs and dairy – check packaging labels, must be "hormone free" (as these can significantly contribute towards hormonal imbalances).
Saturated fats (mostly from animal sources) – limit daily intake.
Trans fats (avoid totally) – liquid oils that are made into solid fats, often found in packaged products or fast foods (check all labels).
Eat unsaturated fats which include the essential fatty acids (the good fats) – these are found mostly from vegetable sources (except omega 3) – incorporate these into your diet.
(EFAs) Omega 3 found in oily cold water fish.
(EFAs) Omega 6 present in nuts, seeds and vegetable oils.
Minimize sugar intake.
Whole grains, nuts, seeds and legumes/pulses – are all high fiber, protein and help keep your digestive system functioning smoothly.
Avoid refined foods such as white flour or white rice.
Also avoid processed foods and soda drinks – these are full of unhealthy preservatives, additives, sugars, excess salt and fats, so best to be avoided.
Filtered water – is best as normal tap water can contain traces of heavy metal and chemical residue, make sure you drink at least eight x 8-ounce glasses per day or more if exercising.
A fertility diet is highly recommended as it can help re-balance the hormones that are necessary for reproductive health.  We can help with what is helpful for a fertility diet.  Contact us below and we would be happy to give you some guidance.
Supplements