Is Your Thyroid Impacting Your Fertility?
YES!  Solving thyroid problems before conceiving is more important than you think!  The thyroid is a very important gland for fertility.  Hormonal imbalance can act as a trigger for thyroid problems.
Let's review how the thyroid functions and learn the different ways thyroid issues may affect your fertility.
The thyroid is a small butterfly shaped gland.  It is located just below the larynx, in the lower part of the neck.  The purpose of the thyroid gland is to take iodine from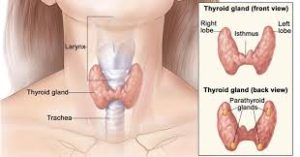 the foods we consume and convert them into thyroid hormones:  thyroxine (T4) and triiodothyronine (T3).  Thyroid cells are the only cells in the body which can absorb iodine.  The thyroid combines iodine and the amino acid tryosine to make T4 and T3.  T4 and T3, once released into the blood stream control our metabolism.  They thyroid is also responsible for proper growth, development and repair of the body.  It is extremely important for the development of the central nervous system.  The metabolism of every single cell in our body is dependent on thyroid hormones.  The thyroid produces about 80% T4 and 20% T3, but T3 has four times the strength of T4.
Our thyroid is controlled by the pituitary gland.  The pituitary gland is controlled by the hypothalamus.  When thyroid hormones drop too low, the pituitary gland releases Thyroid Stimulation Hormone (TSH).  The release of TSH stimulates th thyroid to release more T3 and T4.  Healthy regulatory release of T3 and T4 signal the pituitary to decrease the release of TSH.  The hypothalamus stimulates the pituitary gland to release TSH through the release of TSH Releasing Hormone (TRH).  This can be so confusing.  To break it down, the hypothalamus is like you – a person who can control the thermostat in your home.  The thermostat is the pituitary and the heat is thyroid hormones.  As the heat rises (thyroid hormones), it signals the thermostat (pituitary) to shut off.  As the heat decreases, it signals the thermostat to run again.  The control person (hypothalamus) sets the thrmostat (pituitary) to a regulate the heat (thyroid).